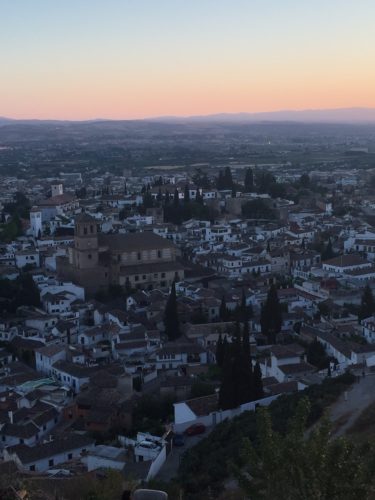 Hola from Granada!
Heather and I arrived here on Wednesday with plans to only stay two days – but its now day three, and we have plans to stay until Sunday. The second we arrived in Granada we fell in love with the city, the hostel and the people, so within two hours, we extended our stay. That's the fun part about planning on-the-go, you are really flexible to pretty much do whatever you want.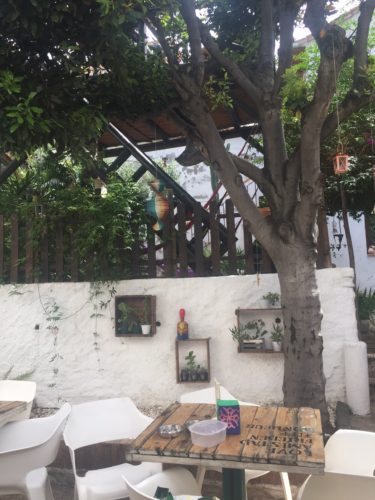 Our first day in Granada we arrived at around 3:00p.m. and had to walk 30 minutes (up hill, mind you) to the Makuto hostel located on the side of a hill. Granada itself is located in a valley of sorts, surrounded by the Sierra Nevada mountains that are still white capped even in summer. Once we arrived at the hostel, we dropped our bags and immediately set off to find some food as we had not eaten since breakfast. While wandering, we came across a Moroccan inspired street with stores, bakeries and most importantly: restaurants. We meandered down the street until we came across an all-vegetarian place that looked perfect and headed on in. The inside of the restaurant was decorated in traditional Moroccan style with hookahs on every table, plush pillows and low tables. I ordered a lentil dish and Heather got a rice/veggie dish. We both devoured them within minutes.
Like I said before, our hostel is located on a hill-side which also happens to house a bunch of caves. Some men and women from Senegal live in these caves. How/when they got there remains a mystery to me, but every night our hostel offers a walking tour in which we go up to their homes to hangout, watch the sunset and enjoy some traditional Senegalese tea.
 Although they do not speak the best of English, they really make an effort to communicate and connect with us – hence the title of this blog. In my opinion, these caves are really a hidden gem of Granada.  Not only because the caves themselves are like unlike anything I have ever seen, but mostly because of the sheer kindness I experienced from the people living in them. Although they have almost no money, they still find it within themselves to offer us tea and take us into their homes.
Unfortunately, I do not have any pictures of the caves themselves, as I thought it would have been rude to take some. These are people's homes, not some tourist attraction. The caves were quite high-end in my opinion, as most of them consisted of multiple rooms and were equipped with running water and electricity. How they managed to achieve this on a complete secluded mountain side is beyond me, but it was impressive – that is for sure.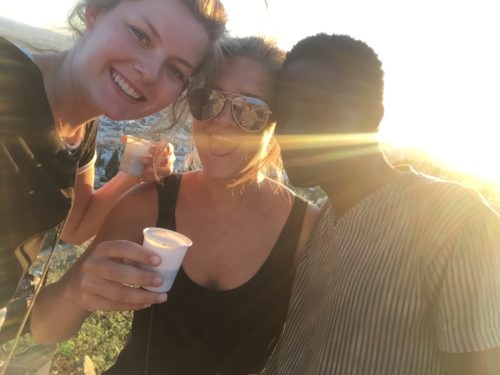 Once the sun set, we all gathered around an open area to watch the performance. All in all, there was a crowd of about 25 people consisting of backpackers, a few locals and other cave dwellers. Three men pounded on drums while five others danced around a bowl chanting in Wolof, their native language. It was honestly one of the coolest things I have ever experienced. I was mesmerized by the entire performance, the intricate dancing, complex beats of the drums and the beautiful language. Before I knew it, an hour had passed, and unfortunately is was nearly midnight and time to head back.
I am so grateful to have been allowed to have witness such an intimate performance. That night will always be one of my favorite memories in Granada. The Senegalese welcome anyone and everyone, so if anyone happens to find themselves in Granada in the future, I would highly recommend hiking up to the caves. I can promise you, you will not regret it.