[dropcap size=small]N[/dropcap]ow when you think of Australia and animals, I'm sure you tend to think of all of the poisonous creatures that can kill you here. Or at least, I did! People say that everything in Australia can kill you. Well, I think that they forgot about all the wonderful, adorable little creatures that live here.
So in this post, I'm just going to share some photos of the amazing animals that I've had the pleasure of seeing and holding so far.
At the University of Queensland, I joined an international students' club called QUEST. During orientation week, they brought in a bunch of Australian animals for us foreigners to meet!
Then there are all of the animals that I see on a normal basis. Unlike the birds I saw at UW-Madison, there are GIANT birds walking all around UQ, like the ibis. There are tons of them all over. I'd say they are like the squirrels of our campus—they are everywhere! (And they love to steal your food: People warned me that they may come and swoop your food away, but I didn't believe they actually would. That is, until it happened to me: I was sitting in the Great Court, a giant, open area of grass where people hang out, have lunch and study, just peacefully eating my sandwich. I set it down on my backpack for a second and all of a sudden, an ibis pops out of NOWHERE and tries to take my sandwich! Thankfully, he was unsuccessful. He just got a little nibble out. Needless to say, I was taken by surprise! I was also kind of grossed out, so I made sure to rip away the part of the sandwich that the bird touched and threw it out. Here is a nice little photo of me, my friend, Matt, and an ibis.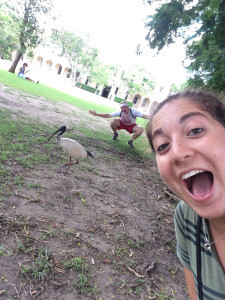 Along with the ibis, there are also wild bush turkeys everywhere! They walk around campus, around the zoo, and pretty much any where else you would find ordinary birds, such as pigeons.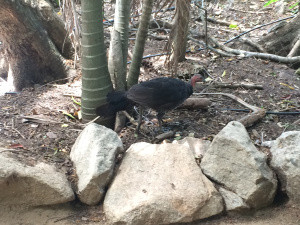 I was finally able to get to the Lone Pine Koala Sanctuary, where I got to hold a koala and take the many tourist selfies (that are completely necessary) with many kangaroos. The sanctuary had plenty of other Australian animals, too, including the Tasmanian devil, dingoes and crocodiles!
It was such an amazing experience to be so close to all of those kangaroos! It was a kangaroo petting zoo, essentially, so there were just so many kangaroos and wallabies hopping around. We were able to feed them, pet them, and take as many photos as we wanted.
Of course, I have encountered a few cockroaches and scary spiders here, but nothing too crazy! I can't wait to meet some more adorable Australian animals as I continue my adventures in this wonderful country.
Speaking of animals… send my kitties my love!
Jessica Brand is a junior at the University of Wisconsin-Madison majoring in food science. She is studying abroad at the University of Queensland in Brisbane, Australia in the spring of 2015.