Castle #1: Caerdydd
I managed to go an entire week in Cardiff before exploring my first castle, though without the jet lag it would've probably happened much sooner.  At any rate, on the first weekend after my arrival my new friends and I made the 45-minute trek into the city centre to set things right.  Because, of course, Cardiff Castle ("Castell Caerdydd*" in Welsh) sits casually in the heart of downtown.
I would not consider myself a history buff by any stretch, nor would any of my past history teachers, but Castell Caerdydd actually has a great backstory.  I took an hour-long guided tour that I'm pretty sure makes me an expert! — thus, I'll inflict a little of what I learned upon you now.  (Just a heads-up.  Feel free to only look at the pictures.)
The Castle actually originated not as a castle, but as Roman forts, around the second half of the first century.  Skipping ahead to the best part, though, in 1866 the 3rd Marquess** of Bute (who owned the Castle) hired an architect, William Burges, to redecorate a bit.
Turns out both men were medieval "enthusiasts" (geeks) with a grand, ridiculous neo-Victorian-Gothic vision for the Castle's interior.  And because these middle-aged Middle Age geeks had the disposable income, their vision became reality.  The whole castle interior is gorgeous, but a few of the highlights (read: pictures that actually turned out) were:
The grand banquet hall, with floor and ceiling knocked out to make it even grander, covered in historical murals.
The "Arab Room", a women's drawing room inspired by Moorish medieval architecture.
The library, full of richly bound books and meaningful carvings.  Bute himself sits over the fireplace, reading Celtic runes (he's on the far right); everyone's favorite English king shares a stained-glass window with his third wife.
Leaving the castle interior, we climbed 50-odd steps up into the Norman Keep:
The keep is a "shell keep", with a high wall designed to ensconce and protect smaller holdings within.
The narrow stairway up to the viewing platform was punctuated by several openings to peek through (or shoot an arrow through):
But the best view was definitely from the top.
As we descended onto the green, some guards overheard me talking to Josh about how the US and Australia have a better craft beer scene than Wales.  Unfortunately this didn't go over well and we were briefly thrown in the stocks:
Luckily, we were released before sunset and I got one last shot of the majestic Castell on my way out.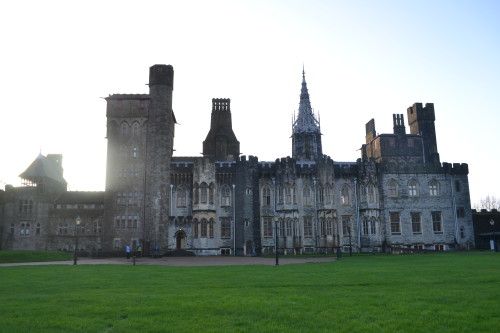 One castle down…about 399 to go!
*sounds like Cass-tell Cai-air-deeth, more or less.  Welsh "dd" is pronounced like the th in "the".
** above an earl, but below a duke.   The marquess' wife is the marchioness.