So I have made it two weeks living in a foreign country!! Honestly, I am a little shocked that I have survived this long without my mom and the comfort of knowing she is only an hour away! What everyone says about culture shock is definitely true: I am a little overwhelmed with how different everything is here. It's helpful that most people speak English. However when you're lost, it's hard to convey what you're looking for to someone who only has a basic understanding of English, especially when you can't even pronounce the place you want to go.
Here's a little taste of my first week here in Copenhagen.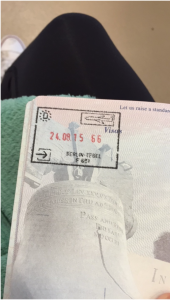 Everything started off great. I only cried a tiny bit in the security line, and I even made it to my gate without losing anything. And then I asked a lady who didn't speak English to watch my stuff so I could pee. When I finally landed in Copenhagen, they didn't stamp my passport (sketchy), and I spent a teary hour and a half trying to find my ride. But eventually, I resigned to taking a cab.
Once I arrived at Signalhuset (my dorm building), I dragged my suitcases around the building, hoping to find the office where I would get my key. The whole time I was hoping that this key office didn't close and that I wouldn't be stuck until Wednesday without a key. Thankfully, I ran into a nice man, the key man. He brought me into his office where I got my keys, fob, and laundry card. He showed me and another kid how everything worked.
Then, I went to my own room. None of my roommates were home, so I unpacked all my stuff. When I finally worked up the nerve to shower in the Danish shower, I heard someone come in. I walked out of the bathroom in my towel and my girl roommate, Helle, was in the apartment! What a great first impression. She seems super nice and is very helpful/ accommodating. Benjamin, one of my other roommates, seems really nice as well. They are both from Denmark, but they have heard of Wisconsin before! Then, I spent an hour or so at the mall wandering around, looking for the supermarket, and buying things I need for my apartment.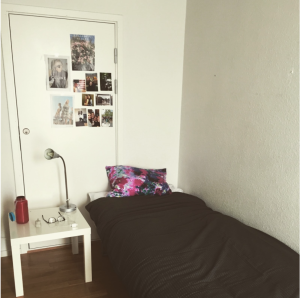 The next day was orientation. I took the metro all by myself to get to my campus and didn't even get lost! I thought it started at 10:00 a.m., but I decided to give myself extra time in case I got lost. I arrived at about 8:45 and heard people talking about the orientation, so I decided to follow them. Good thing I did! The orientation started at 9:00! Luckily, I arrived right on time, grabbed some free coffee, and sat down in an open seat.
The girls I sat with were named Laura and Alba, and they were from Germany and Spain. They were very nice. Alba was super funny, while Laura was more reserved and serious. I sat with them at lunch, as well as a girl Georgie from Australia. I learned a lot at orientation and met people from all over: France, Netherlands, Sweden, and America! I also got my student ID card so now I feel official.
After orientation was over, the girls I met and I decided to go into the city. We took the Metro there and met up with my friend Gretta! She's studying at a different school than me, so she's been in Copenhagen for 2 weeks already. It was so good to see her, and she acted as a tour guide for us.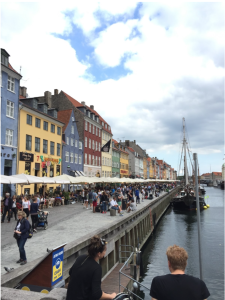 This is my campus! The buildings are all very new and are separated by canals, in true Copenhagen fashion.
We had orientation again at the next afternoon, so my new American friend Maggie and I walked around the mall for a while beforehand. When we got back on the metro, disaster struck!!! Usually, when you get on the metro you have to tap your rejsekort, your metro card, on a scanner to pay for your ticket. Well, I was so distracted helping Maggie get her card that I totally forgot to tap mine. The ticket-checker-man came over to check my ticket, and it showed up that mine didn't scan! He gave me a 750 kroner fine, which equates to about 100 American dollars. 🙁 I am upset about it, but now I know that I will never forget to swipe my card EVER again.
We had orientation almost the entire next day. It was pretty boring. We learned all about bikes, bike safety, and how a Danish lecture and class works. That afternoon, I went home and bought some more things for my room to make it more cozy and organized. I even found gluten free bread at the store!!! I was so excited when I found it!! After organizing our rooms a little bit, Maggie and I took the metro to the Nørrebro station to meet our friend Regina there. We ate dinner at this cool little outdoor/indoor food market. It reminded me of Faneuil hall in Boston.
On Friday, we had the "matriculation ceremony," which is where all the international students come together and meet in this big courtyard. The dean of the school gives a speech, and afterwards we shake his hand. There was a bar at the event, so everyone was drinking beers during the speech. They even held their beers while shaking the dean's hand! I didn't have a beer, but I did shake the guy's hand. Pretty anticlimactic.
After we went to the studenterhuset, which is like our student union combined with a coffee shop and a bar. We waited in line for a super long time to get drinks and then just hung out for a bit. I ran into two of the kids from Wisconsin! One of them was volunteering at the bar so he served me my drink! I also met a few more kids from other schools in the U.S.
Then, I headed over to Gretta's to go out with her. I couldn't figure out what bus stop to use, so I went up to multiple people asking if they spoke English. A few said no, but then one girl said she would help me. She was actually going on the same bus as me! We sat together, and she told me her name (I can't remember it though). She asked me about myself and where I am from, and she even gave me a hug before she got off at her stop! Danes really are so nice. Once I made it to Gretta's, we gathered up our stuff and made our way to the Meatpacking district! There are a bunch of clubs and bars there, so we went into a bar called Jolene.