Welcome to part two of my trip to New Zealand!
The fourth day of our trip began on extremely high note: As we were heading out on another breathtaking ride from Te Anau to Queenstown, we were surprised by a natural beauty that I haven't seen in way too long—a rainbow! A full, double rainbow! (Ok… the double one wasn't quite full, but it was so close!)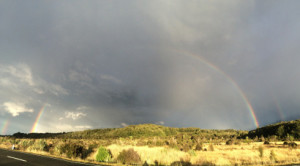 It was a pretty spectacular view. And the crazy contrast of dark clouds and storms on one side of us to the beautiful rainbow and almost-sun on the other side was just incredible to see.
This drive was my favorite by far. As you can see, there were many incredible stops that made our ride much longer than we planned it.
We were ready for the craziest adrenaline rush of our life when we arrived in Queenstown: we were scheduled to go skydiving! But, as you may have guessed from the theme of our trip, it was cloudy and rainy so our skydiving adventure was cancelled. I was pretty upset at first, but it opened up the opportunity to explore Queenstown. We were advised to go to a cute market on the lake by one of our buddies from the hostel. The market was wonderful and filled with so many amazing handmade crafts. I wish I could have bought home so many different things, but traveling halfway across the Earth just doesn't allow for some purchases. Caitlin and I found an awesome pizzeria called the Fat Badger, so we HAD to go. (Go Badgers!) It was absolutely delicious. That night, we met up with some of our good friends from Australia to go to an ice bar. I've always seen photos of these places, but being in one was so fun! Every single thing is made of ice, even the glasses! It was a really "cool" experience.
Ziplining has always been on the top of my bucket list, so on the second day in Queenstown, I was able to do it. We went on a 6-line zipline tour, and it was AWESOME. Near the bottom, we arrived see to an awesome cloud formation around the mountains. It almost looks Photoshopped! (Also, I'll hopefully have a video put together of the ziplining soon. Stay tuned!)
Queenstown proved to be an awesome city: I ate the famous Fergburger from Ferburger, had the best doughnut of my entire life, and tried some delicious Italian food. We saw some amzing scenery. We were able to see some familiar friends and also meet some really cool people from all around the world. It is amazing how you can have such wonderful conversations with new people who share your love of exploring the world and seeing what foreign places have to offer. And lastly, our hostel in Queenstown had a cat named Gary. So, yes, Queenstown was amazing.
Next Stop: Fox Glacier! On our way to the Fox Glacier, we stopped in Wanaka for a delicious brunch and photos with a strange hand sculpture because… why not? Also, we saw the cutest old couple sitting in their cute old car just enjoying the view. It was absolutely adorable!
Hiking on the actual glacier costs a very pretty penny, so we decided to walk along the path that gets you pretty close to the glacier instead. It was so cool to see this fascinating piece of nature that will (sadly) probably be gone in the next few generations—it's receding further and further from the path as time goes on. This walk was extremely memorable because Caitlin and I just had way too much fun walking back to our car while singing, dancing and just being weird the entire way back.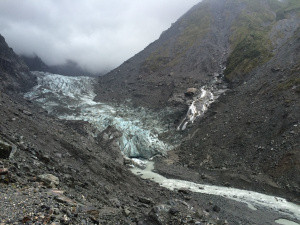 As we drove to our next destination, Hokitika, we were stopped in the middle of the road by a whole herd of cows being led by people on horses and dogs. I was hoping something cool like this would happen on one of our drives and it did! Some people may have been annoyed that they couldn't drive forward, but Caitlin and I were having too much fun enjoying how funny the whole situation was and taking pictures.
We didn't really know what to expect in the little town of Hokitika, but we gave it a try—and it's a good thing we did! We went on in amazing hike through the rainforest. There was a huge rainstorm the day before, so some of the path was filled with water, but we were willing to take it on.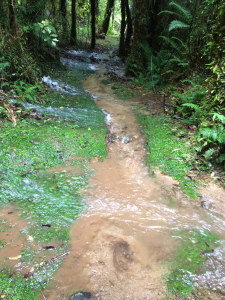 Our shoes were soaked most of the way, but it was such a wonderful experience. We are probably ready to be Olympic long jumpers after the practice we got from attempting to jump over the massive puddles that came our way. The rainforest hike is definitely on the list of my top three things I did in New Zealand. The sounds of the birds and waterfalls filled our ears at all times, too. We didn't really see many, but you could hear them calling out the whole way through the forest.
Our eighth day consisted of seeing the famous Pancake Rocks in Punakaiki and driving to Abel Tasman National Park. No one really knows how the Pancake Rocks were formed, but they are pretty awesome if you ask me! There were also blowholes—as the water and waves rushed into ponds, the pressure would push water into formations of rock, and water would blow up and out of the top.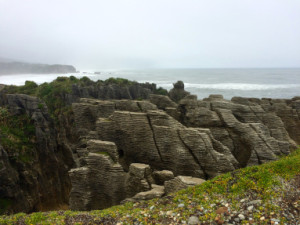 We stayed in Abel Tasman National Park that night and woke up the next day to go on a hike through the park. We were planning to give skydiving one more try here, but it got cancelled again due to weather. Everything happens for a reason though, so I guess we just weren't meant to go skydiving! We are going to give it another try somewhere here in Australia. (I'M NOT GIVING UP.) Anyways, our hike through Abel Tasman was wonderful! We had a nice mix of coastal views and rainforest views.
And of course we stopped for some amazing burgers at this cute little food truck after our hike!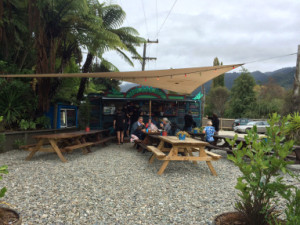 Last, but certainly not least, was the town of Kaikoura. There, we stayed in the best hostel I think I have ever and will ever stay at. Just look at it:
Not only was it the cutest place ever, but there were the nicest people there! We sat around in the kitchen/living area with some people one night and just played guitars and sang songs all night. That might sound cheesy, but it was actually really wonderful. They even had a ukulele that I tried to play. I still need to learn how to play mine… The night was just very relaxing and enjoyable. Next best thing about this hostel: free coffee, tea and hot chocolate! You do not find that at many places at all, so that made us very happy. Kaikoura is known for whale watching, seals and swimming with dolphins. We drove over to a prime seal-spotting site, and there were seals everywhere! They were lying along the road and one even sat on the road. We climbed up to the top of a hill and saw even more seals from above—they were just so cute!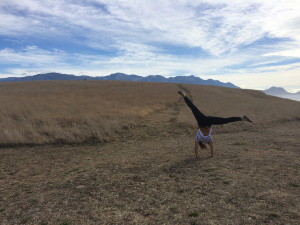 Onto the other Kaikoura attractions: We first attempted to swim with the dolphins… Cancelled due to weather. Then we tried to go whale watching.. Cancelled due to weather. Pretty much avoid New Zealand from April 1-10. OK, now I'm sounding dramatic: The trip was absolutely perfect in almost every way. The weather only stopped us from doing a few things here and there. I'm making it sound worse, but New Zealand is beautiful in almost any kind of weather!
After Kaikoura, we headed back to Christchurch to wrap up some of the most wonderful 10 days of my life. Our flight back to Australia was very good because we got upgraded to the first row of economy. You know what that means: LEG ROOM. It was a nice way to end the trip.
Overall, I wouldn't trade a single day of our trip for anything. New Zealand will be one of my favorite countries for so many reasons. This trip created memories that will last a lifetime, and I honestly hope I can come back one day to share the beauty of the country with my family and friends. Caitlin, if you are reading this, thanks for being my travel buddy! I had an amazing time traveling the country with you, and thanks for putting up with me the whole time!
That's all for New Zealand, folks! Thank you for reading all about my trip and for keeping up with my adventures abroad. I really appreciate it!
Jessica Brand is a junior at the University of Wisconsin-Madison majoring in food science. She is studying abroad at the University of Queensland in Brisbane, Australia in the spring of 2015.