Paige Strigel, editor in chief
Paige is a senior studying English Lit and Journalism Reporting. Her most recent adventure was studying abroad in London for spring of 2019. She couldn′t be convinced to return in May, so she spent the summer living with a family in northern Italy as an au pair. When she's not on the road, Paige teaches yoga and makes more travel plans.
Ana Demendoza, deputy editor in chief
Ana is a senior from Miami, Florida majoring in Journalism, International Studies with a certificate in European Studies. As a child of Venezuelan immigrants, Ana has been exposed to numerous cultures and nationalities growing up in a minority-majority city. Along with personal trips to places like Panama and England, Ana has participated in service trips to countries including Brazil, Thailand, Peru and Mongolia. Ana plans to use her background to uplift diverse voices in the conversation of travel.
Genevieve Vahl, deputy editor in chief
Genevieve Vahl is a senior this year. Traveling has always been her passion, but her time studying abroad in Berlin, Germany really honed her appreciation for other places, people and cultures; a xenophile, you could call her. She is studying Journalism with certificates in Graphic Design and Digital Studies, hoping to train her written and visual communication skills to relay her experiences interacting with art and culture constantly evolving around her. She believes that you live and you learn from every experience, person and place you interact with, whether bad or good. Traveling with this calm curiosity has opened her up to many opportunities to build her to who she is today.
Ashley Luehmann, marketing director
Ashley is a Senior studying Strategic Communications and Entrepreneurship. She studied abroad in Italy last spring, giving her an irreparable affinity for espresso. Ashley has traveled to 15 National Parks so far and hopes to one day see them all. When not daydreaming about her next road trip, Ashley loves to kayak, downhill ski, and float on the boat with her dogs.
Lily Oberstein, art director
Lily is a junior from New York City studying Journalism, Legal Studies, and Art History. She doesn't know how to drive so she carries her passport around with her instead of a drivers licenses! Instead of driving her preferred mode of transportation is commuting by raft. Lily's goal is to double the number of stamps in her passport (and maybe even learn how to drive).
Kylie Compe, photo editor
Kylie is a senior majoring in Journalism and Environmental Studies with certificates in Digital Studies and Photography. During her junior year, she studied abroad in Cairns, Australia and spent the semester traveling down the east coast and exploring the Outback. She has also traveled to Germany, England and Canada and is longing to see Africa and Antarctica next. Kylie wants to spend her life traveling and learning about different cultures while advocating for the environment. She believes in the power of storytelling to change the world and longs to join National Geographic as a journalist and photographer to give voice to those who aren't heard.
Emma Patet, web master & staff writer
Emma is a senior studying Journalism and Gender + Women's Studies with a certificate in Digital Studies. She recently returned from Southeast Asia, but her heart was left abroad. She longs for her home in Bangkok, where she studied Thai language and film production while making plenty of time for temple-hopping, long boat riding, and rainforest traversing. On most days, she can be found enjoying a milk tea (an addiction she developed in Asia), skateboarding around Madison, or watching a good film. Emma plans to move out West after graduation—how far west is yet to be determined!
Ana Komro, editor
Ana is a senior majoring in English, Creative Writing. Though she's aspired to travel abroad ever since her family took her to Germany when she was six years old, she currently finds herself exploring the United States. One of her (many) plans is to visit all the national parks, and revisit her favorites. Upon graduating, she'd like to pursue a career in editing. In her free time, Ana enjoys reading good books, writing stories, spending time outdoors, and rediscovering her love for Star Wars.
Emma Liverseed, editor
Emma is a senior majoring in English, specifically Creative Writing. Whether she's boating on the Ligurian Sea, eating a brat in the Bavarian Alps, or enjoying the Wisconsin Northwoods, Emma loves travel of all kinds. When she's not checking Google Flights or scrolling through TripAdvisor, Emma enjoys hiking, writing poems, and playing tennis.
Megan Janssen, editor & staff writer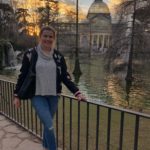 Megan is a senior double majoring in Journalism and Spanish. Most recently, she spent the spring semester of 2019 in Madrid, Spain, practicing her Spanish and drinking unhealthy amounts of coffee. Upon graduating, she hopes to work abroad in a Spanish speaking country to continue exploring new places and better her Spanish language skills. When Megan isn't dreaming of café con leche, she loves running, cooking and being with friends and family.
Allison Streckenbach, editor & staff writer
Allison is a recent graduate of UW Madison with a bachelors degree in International Studies and Human Geography. She is back to pursue a Master's degree in Global Higher Education. She studied abroad in Rio de Janeiro, Brazil in 2017 and in Leeds, England in 2018. Her goals for this year include expanding the accessibility of the magazine and hearing from more international students on the UW campus. For fun she likes to watch Buzzfeed Unsolved and try out new recipes.
Kim Asseily, staff writer
Kim is a Senior studying Communication Arts and Environmental studies with a certificate in Digital Studies. She is a curious wanderer who loves learning and immersing herself in new cultures. If she could live in every country in the world, she would. When she's not traveling or on the lookout for the next adventure, Kim is either swimming, hiking, reading or making some delicious smoothie bowls.
Maggie Jay, staff writer
Maggie is a sophomore majoring in History and English with an emphasis on Creative Writing. Her current life aspirations are to become a high school history teacher and make up insanely hard DBQs for her kids. Before launching into a teaching career in the states, Maggie wants to teach English in Japan or South Korea. Her last adventure was a spontaneous trip to California and her next adventure is a slightly more planned vacation in Seattle. Maggie loves to edit essays, wash the floors, run ten miles, and make jokes in her free time.
Mason Hakes, staff writer
Mason is a first-year grad student studying Speech Pathology, which he studied along with Portuguese for his undergrad degree. Mason has studied abroad in Germany and Brazil. His goals are to work as a speech therapist in Montréal while simultaneously writing for a travel or food publication. When he's not studying languages, catch him eating shawarma or tacos wherever they are sold.
Charlie Kitcat, staff writer
Charlie is an English person who has been to some places. He studies history and journalism, because he enjoys them and doesn't want a real job. Additionally, he advises against riding motorcycles in the Philippines whilst wearing flip-flops, as a precaution.
Chandler Maas, staff writer
Chandler is a junior majoring in International Studies with a French certificate and a compulsion to see the world. Her goals include visiting every continent before 30 and working for a non-profit. When not on the move, Chandler enjoys hiking, cooking and socializing more than she should.
Diana Powers, staff writer
Diana is a junior studying Nutritional Science on the pre-med track. When she isn't studying, she loves to capture the beauty of her travels through photography and by writing in her travel journal. Aside from constantly wanting to catch a flight out of Wisco and to somewhere full of unknown sights, she spends her free time running on Lakeshore path and hammocking in the sun. She enjoys being able to share her travels with the readers of Souvenirs and hopes to be going somewhere exciting during the coming year.
Ying Yang, staff writer
Ying is a freshman studying economics and communication arts. Before going to college, she studied abroad in the UK and New Zealand, which offered her a lot of great inspirations. Besides, she also went to 10 countries so far and used the camera to catch the beauty of the memory. She wants to spend her life traveling, learning diverse cultures and meeting different people. As a Chinese girl, she also wants to share more fascinating things about China!  
Emily Beyer, blogger abroad
Emily Beyer is currently a junior double majoring in Communication Arts and Philosophy, along with a certificate in Environmental Studies. During the spring semester of 2020, she will be studying abroad in Sydney, Australia. Because of her affinity for spending as much time as possible in the great outdoors, living in Australia will provide innumerable opportunities for exotic outdoor experiences she has always yearned to have. She cannot wait to share her grand adventure in the land down under with others— plus the many other journeys along the way.
Kiersten McDevitt, blogger abroad
Kiersten is a junior studying English and Communication Arts. She is constantly thinking about her next travel destination, especially the ones near an ocean. She has a passion for writing and for exploring new places on the road less traveled. She spends her free time running, enjoying the outdoors, and browsing Spotify. Currently, Kiersten is spending her semester abroad in London.
Samantha Bonilla, blogger abroad
Samantha Bonilla is a junior from outside of Chicago majoring in Health Promotion & Health Equity with a certificate in Global Health. Inspired by the yearly trips to Mexico to visit family when she was younger, Samantha knew she wanted to travel the world to be exposed to different cultures, places, and people. Having previously studied abroad in India, Samantha is now studying abroad in Italy this spring semester, plans to travel to a different place every weekend, and have a semester full of food, art, and growing.