Souvenirs is a collection of travel and multicultural experiences from undergraduates at the University of Wisconsin-Madison. Created and run entirely by students, Souvenirs publishes a biannual print magazine and maintains a website year-round. There are multiple opportunities to use Souvenirs to advertise your business.
Download the Souvenirs Media Kit here.
To arrange an advertisement through Souvenirs, contact Sophia Dramm, editor-in-chief, at souvenirs@union.wisc.edu.The deadline for reserving an ad spot for the Spring 2018 print issue is February 16. See below for details and logistics.
Print ads
Traditional advertisements are placed in the biannual print magazines.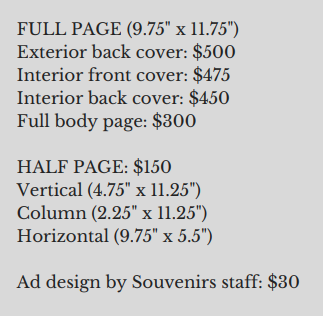 Sponsored articles
Sponsored content (content produced by an advertiser promoting a business or service) is becoming more and more popular as a form of strategic marketing. Articles must be written by the advertiser, as you know your business and can highlight it best. Articles must relate to traveling or multicultural aspects. Articles are subject to editing by Souvenirs.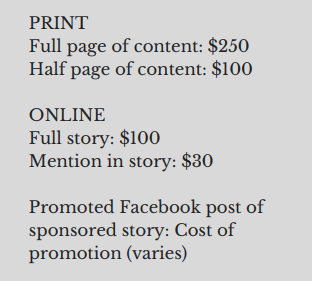 Online
Due to the logistics of the website and domain, Souvenirs currently does not offer traditional web advertisements for the online website.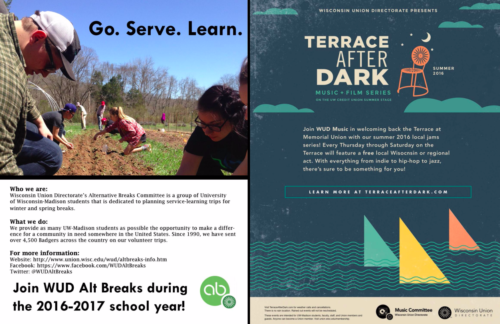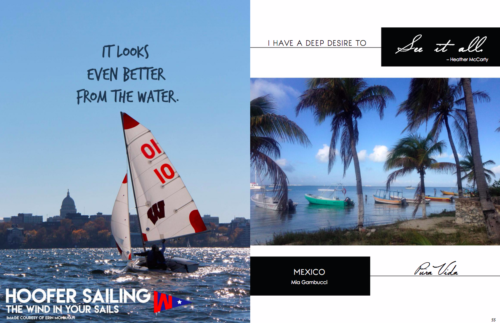 Who reads Souvenirs?
Souvenirs' circulation provides access to approximately 42,000 students at the University of Wisconsin-Madison. In addition to the student population, UW faculty and staff, Wisconsin Union members and the Madison community have access to the print publication, while all online publication and website is public to all internet users.
Online readership

Fall 2017 print issue distribution
500 print copies were distributed across campus, including at Memorial Union, Union South, International Academic Programs office, College Library, Vilas Hall, Grainger Hall and other academic buildings, Starbucks, Indie Coffee and other local coffee shops, and online at www.souvenirsmadison.com/in-print.
Advertising details and logistics
Billing: Payment must be submitted via check made payable to "WUD Publications" with the memo "Advertising with Souvenirs." Mail or deliver check to L. Malik Anderson, WUD Publications Director, at:
WUD Office 5281 Memorial Union
800 Langdon St.
Madison, WI 53706
Payment in advance is required of all advertisers. Accounts are due and payable upon billing, accounts become past due on the 10th day following statement date. A service charge of 1.5% per month will be assessed on overdue balances. Failure to meet contract requirements for frequency or size will cause rebilling at a higher rate that corresponds to actual space used. Cancellation of an agreement must be received in writing prior to deadline date.
Deadlines: The deadline for submission of editorial copy is the 5th of the month preceding publication. Deadline for camera-ready ads is the 10th of the month. A fee of up to 50% cancellation charge may be applied after deadline.
Acceptable ad file formats: Adobe PDF, Adobe InDesign, Tiff, EPS (generic) or JPEG (@300 dpi), Freehand 10.x, Illustrator 7x, Photoshop 5.x
Production notes: We accept ads/artwork on CD or via email. Files must include fonts (paths), art and images used in ad creation; WUD Publications is created in Adobe InDesign.
Errors: Liability for errors shall not exceed the cost of that portion of spaces occupied by such error. Claims for adjustments must be made within ten days of publication. You are responsible for checking all content. When the ad is run with your approval, responsibility for all errors and inaccuracies are yours.
Acceptability: WUD Publications reserves the right to reject any advertising that does not meet our standards. Editorial copy must be submitted by e-mail with a hard copy proof. WUD Publications reserves the right to edit all submissions to fit size, format and guidelines.