Originally published Oct. 12, 2016 by Maggie Beheler-Amass
This weekend we traded the city streets and the Mediterranean Sea for rocky trails and Lake Annecy. Full of canals that rightfully give it the nickname of the « Venice of French, »  Annecy is tucked away in the French Alps, 36 kilometers from the Swiss border. On Friday evening we wandered the old town, with Swiss architectural influences portraying precisely how close we were to our foreign border. All of the streets in old town led to the famous English Gardens and Bridge of Lovers, overlooking the vast expanse of mountains and Lake Annecy. As the sun set, painting the mountains aglow in the crisp fall air, we knew our weekend destination was perfect.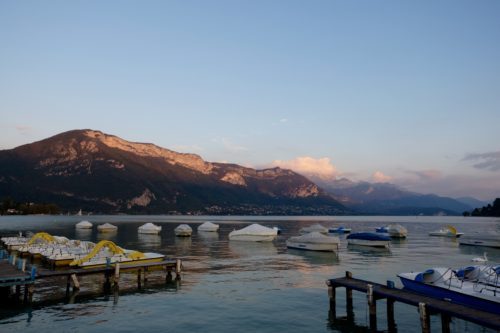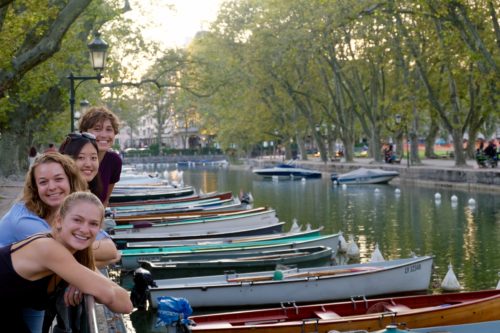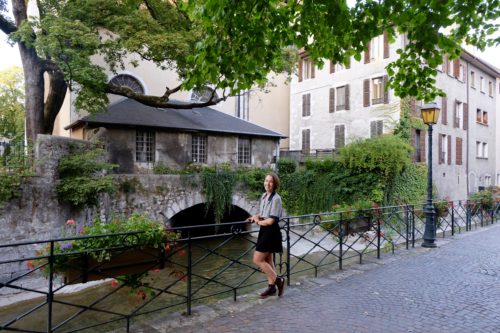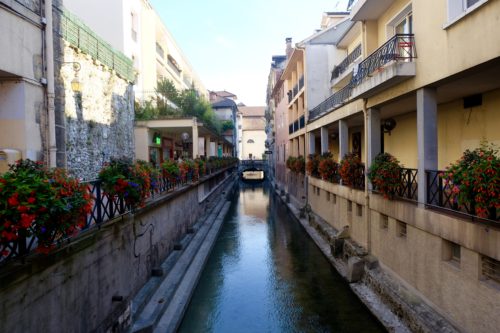 Later that evening, we tried the local delicacies: melted cheese, cream and potatoes! Need I say more? Raclette is a literal half round of cheese that is slowly melted throughout the meal and served with baked potatoes. Simplicity is sometimes the best. Tartiflette is a mixture of onions, cream, potatoes and bacon melted in a tart pan and lined with cheese. Our meal was amazing and we fell asleep immediately following the meal.
In the morning, we rose early to explore the local market. Even though the town of Annecy is smaller than Aix-en-Provence, its food market was more extensive, stretching throughout four streets! Vendors in the market engage their customers in conversation, explaining how each product is made and where the ingredients come from. I purchased my favorite olive bread made that night only a few blocks away. Our breakfast consisted of puff pastries called Suisse that were similar to pain au chocolat but contained cream and a lot more chocolate. Incredible. We also found freshly made pasta and sauce for our post-hiking dinner that evening.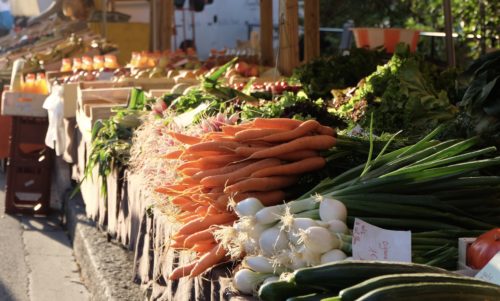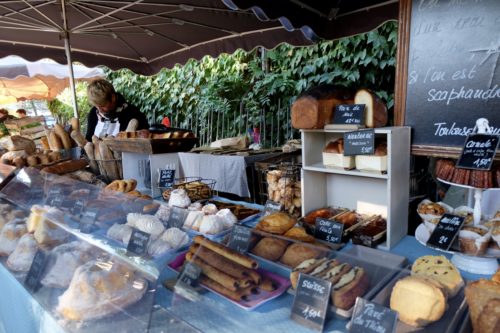 For our afternoon, we took a bus a half hour out of town to an even smaller village called Talloires. Our first leg of the journey consisted of a path going straight up a mountain side for 50 minutes. It was painful, but the view from the top made the leg workout worth it. We wandered down various paths, pausing to marvel at the peaks still towering above us where over a hundred paragliders zoomed with brightly colored parachutes. Along the way, we passed through a tiny mountain town featuring some friendly cows. I made a new friend who licked my shoes and let my pet him, so overall I thought we made a fair trade. The major attractions to our hike included the Falls of Agnon and the Hermitage of St. Germain, a monastery dating back to the 1300's, where St. Germain secluded himself to be closer to God. I think he may have had ulterior motives, but anyway, after the hike we were completely exhausted. We feasted on our market goodies, eating almost in silence as we inhaled our well-earned meal and went to bed.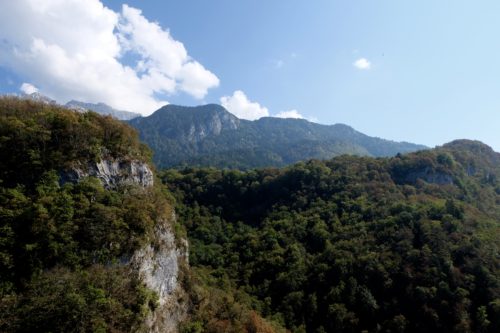 Sunday morning included more old town adventures, featuring American pancakes, which were really closer to crêpes, giant macarons and really good pastries. When we wandered to the top of the town, we found the Chateau of Annecy, created in the 1100's. Today the chateau is home to both modern and classic art museums, an aquarium (with mermaid skeletons!?) and a perfect view of the entire town. A weekend well spent in Annecy!