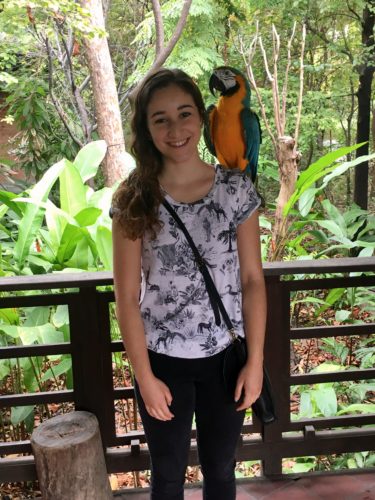 I'm definitely a person who likes to have a place to call my own, a home. I have found my place on campus in Madison, Wisconsin. I feel safe and confident as I walk around campus. I can easily grab some coffee on Monroe Street, a bite to eat on State Street or chill on the Terrace without worrying about my safety. Over the next four months I will be staying in six homestays, various hostels and hotels, a boat and with an indigenous tribe in the middle of the Amazon rainforest. In addition, I will be traveling to at least 12 different cities, some of which are enormous cities facing economic and political issues: cities deemed unsafe for a 21-year-old female to travel to alone. Others are smaller towns that may be considered safer but are unaccustomed to having tourists who do not speak fluent Spanish. As I look ahead at the next four months, I wonder how I will find familiarity in a culture where I don't speak the language or know anyone. I wonder if I will get used to the stares that I receive just for walking down the street. I wonder if I can find a sense of home while traveling from place to place.
For the next months I will be interning with Child Family Health International (CFHI) in Ecuador and Argentina. CFHI is an NGO specializing in ethical global health education in low and middle-income countries. CFHI pairs students with doctors, public health workers and other community members from countries across the globe, so that students can learn about the local community's health from actual community members. CFHI has internships in Latin America, Africa and Asia, each focusing on regional health topics. I will be specifically focusing on Community and Public Health, including prominent issues such as mosquito-borne diseases, indigenous health and maternal health. In addition, I am enrolled in the International Internship Program at UW-Madison, which allows me to remain a student while working abroad.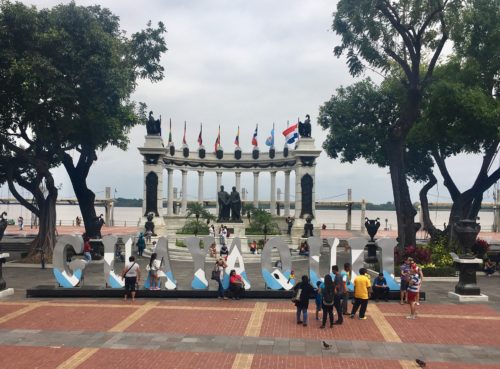 My first stop was Guayaquil, the largest city in Ecuador. As my first week comes to an end, I have already begun to find comfort in the little things, and the small predictability of everyday life in South America.
Every day starts with a cup of fresh juice, all new flavors: tamarillo, naranjilla, morocho and passion fruit to name a few. I drink my juice along with some eggs and bread as I get ready for another day here in Guayaquil. The days here have already begun to be familiar as I find my place in this huge city. I am already getting used to the hustle in the streets as people go to work in the morning. Cars weave in between each other in streets with no marked lanes, honking as they dash by. On the sides of busy streets are men and women selling almost every type of food. Trucks full to the brim with oranges sit on the side of the road selling packed grocery bags for just $1. A woman on the sidewalk sells whole featherless chickens that she cleans as cars hurry by. A man hacks at a coconut until it bursts with water that he pours into a plastic bottle to sell. Cars frequently pull over to buy something they need or stop for some breakfast at a small stand on the side of the road.
Guayaquil has a different energy than most other cities. Although cars are rushing in the streets, there seems to be a genuine calmness to the people as they stand and wait for their buses, sit in traffic and wait in lines for food. Although people definitely stare at me as I walk down the street, all the people I have met have been warm as they greet me with a kiss on the cheek. As I tell people my name they frequently respond with, "Oh, like Julia Roberts!" They are curious about my life in the United States and ask me dozens of questions.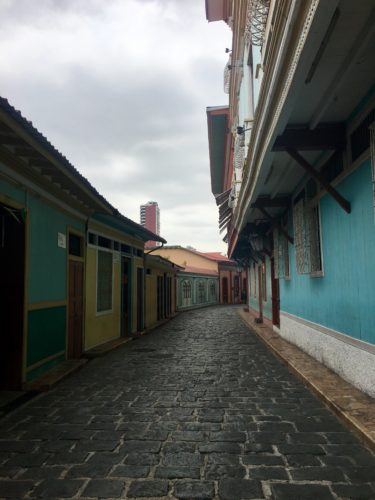 During the week I saw the city through the eyes of Guayaquileños as I worked in communities with the local Ministerio de Salud Pública. However this weekend I was a tourist, which is not a common thing in Guayaquil. Although Guayaquil is the largest city in Ecuador, it is not a very common tourist destination, as it has the reputation of being unsafe and poor. Although there are definitely beauties to be found throughout the city, they are scattered amongst poorly built houses and litter filled streets. This weekend I took the 444 stair climb up Las Peñas, a hill filled with colorful bohemian buildings ending with a beautiful view of the city from the top of a lighthouse. I also visited the Parque Historico and Parque de las Iguanas, took a walk down the Malecón 2000 and hopped on the double decker bus for a tour around the city. It was strange being a tourist in a city with so few tourists, so now I'm going back to trying to find familiarity in my everyday life here in Ecuador.