I'll be completely honest: I'm not much of a traveler on my own accord. I'm typically content with staying around the place I live and hanging out with friends. However, I've heard from virtually everyone that travels during their study abroad trips to do so myself, so I heeded their advice and left the confines of the university.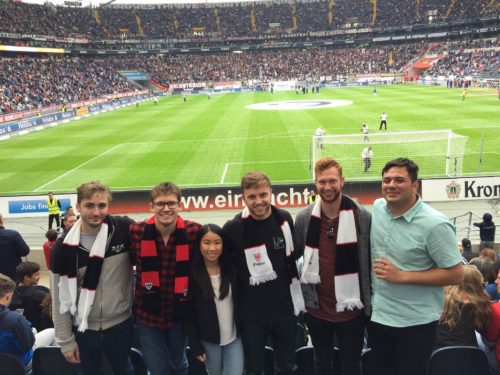 Some Canadian friends and I decided our first adventures outside of Vallendar would take place in Frankfurt. We took a couple trains to get to the relative metropolis and quickly shuffled over to the hostel we were staying at. After a brief nap, it was on to our first task of the weekend: a local soccer game between Eintracht Frankfurt and FC Augsburg.
It's early in the Bundesliga season, but the passion and intensity at the stadium appeared to be at mid-season form. As we walked along the path to Commerzbank Arena, monstrous chants could be heard ringing throughout the open air. The roar intensified as we neared the entry gates and crept closer to the start time. We meandered to our seats behind one of the goals and plopped down right next to the visiting team's cheering section. Eintracht Frankfurt wound up losing 2-1, but I can easily say that it was one of the most energetic and exciting games I've watched. The fans' involvement and the all-out performance of the players made for an excellent environment for my first professional soccer game.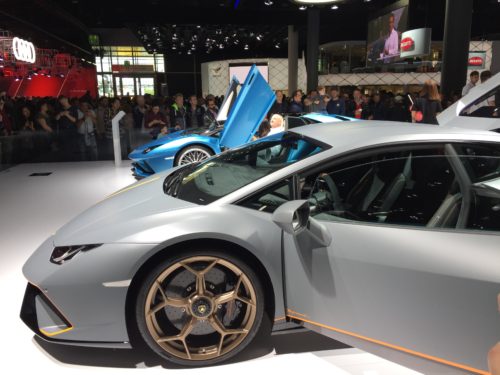 The other thing on our to-do list for the weekend was attending the International Motor Show. While we were there we saw a number of exquisite cars from a number of luxury car companies. My personal favorites were the Lamborghinis and Bugattis on display, but the area devoted to new car technology was also very cool.
All in all, it was an outstanding weekend. They say hindsight is 20/20, but I made an excellent decision to move out of my comfort zone and travel on my own a bit. If this trip was any indication, I can't wait to see what my future travels have in store!