I now write from the States, and I have had ample time to reflect on the five months I spent as a student abroad. The final month of my journey was the most hectic of all, but also the most rewarding. I completed all of my classes at the University of Iceland at the end of April, and in the four weeks following, I traveled on six planes, two trains and three buses. North Iceland, Budapest, Slovakia, and south Iceland each had a lot to offer, contributing their unique experiences to my collection of sights and wonders. From drinking champagne on the Danube to hiking in glacially-carved valleys, I've successfully fulfilled my travel quota for quite some time, and it feels great to be home.
North Iceland is known for its fjords, especially surrounding Akureyri, the second-largest city in the country. Other parts of the region are so other-worldly that they are often filming sites for major motion pictures, such as Rogue One. My parents visited, and we traveled around the famous Mývatn area, including a trip to the Mývatn Nature Baths: a collection of geothermal hot spring baths.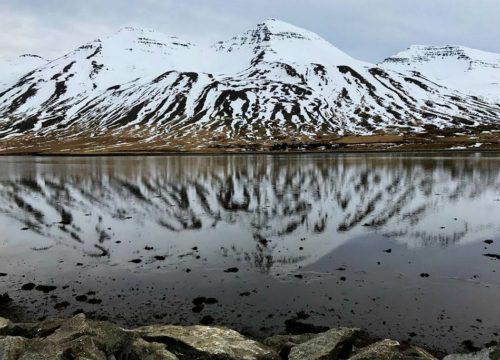 Shortly after returning to Reykjavík, I went on my first solo trip – a getaway of sorts – to Budapest, Hungary. I immediately fell in love with the city, my hostel and all of the people I met during my time there. Whether that can be attributed to the sunny-and-75 weather, its unique historical past or the friendly young people by my side is undetermined, but it all combined for a truly magical experience. I took a walking tour of the city, visited a few great lookout points, seized the night life at Budapest's famous ruin pubs and went on a night cruise down the Danube River.
After a few days, I hopped on a remarkably slow-moving train to meet my relatives in Košice, a charming city in eastern Slovakia. My relatives are distant, but it was fascinating nevertheless to see the house that my great-great-great-grandmother lived in along with her descendants. The towns were relatively small, and we took a few drives through the rolling green hills of the Slovak countryside. It was a unique experience, since English speakers were rare, and we needed a translator in order to communicate with almost everyone in the country, including our family members. We saw a play downtown at the opera house and later sat together and reviewed our reconstructed family tree that reached back to the 1780s.
I returned to Iceland for a glacial excursion with other geology students to conclude my entire trip. We spent five days in the field despite hurricane-force winds, rain and other obstacles, observing glaciers and geological structures that indicated glacial presence. This included vast plains of sediments deposited by volcanic eruptions, stunning valleys, layered coastal cliffs and beaches. The trip taught me the value of fieldwork and research, as well as the inevitability of adversity when dealing with Arctic weather. I was able to spend my last few nights in town with other exchange students, relaxing and enjoying the beginning of Icelandic summer and its ever-present midnight sun.
I returned home at the end of May, satisfied with the wonderful chaos of a month of unpredictable adventures. If you read this post and think that it all seemed like a jumbled and inconsistent bunch of places and things, then you're absolutely right. I spent the month exploring in so many different ways, resulting in cultural, natural and internal discoveries. I left my comfort zone and lived alongside people of all kinds, each with their own direction, some admirably relishing in the fact that they have none. I watched the physical landscape change before my eyes, from hot to cold and snow to wind and sun to mountains and hills. There is something extremely valuable, yet indescribable, about a route with no explanation and no theme, and I feel as though I further proved to myself that there is something to learn everywhere that I may go.