By Emily Christon
As April rolled around last spring, I was informed the small company that hired me for my summer internship had closed due to family emergencies. This left me lost with no plans, no time to find another professional internship and an itch to travel the world. Since starting university in fall of 2013, I have been in an organization called AIESEC. This organization connects students with cost-effective international work or volunteer experiences in over 120 countries. With little time to find an opportunity, I started my search right away, determined to make this work. I applied to three volunteer opportunities in Spain, Argentina, and Romania. Within a week I had signed a contract to spend six weeks in Ighiu Alba, Romania working at a language immersion summer camp. What follows is my outgoing preparation, arrival—and the six weeks that changed my life.
OUTGOING PREPARATION:
To research Romania, I was able to talk to locals and my boss before departure to prepare myself for culture shock. I also did a lot of research on the internet to find out safety in the area, learn basic Romanian phases and hear other's experiences from similar trips. As for logistical outgoing preparation, Romania is a country that doesn't need a work visa for six week trips, and I did not need any vaccinations. However, I did purchase travel insurance, new luggage, locks for luggage and made a few other safety precautions for traveling.
No one warns you the turmoil that goes into packing for six weeks in a carry-on suitcase and a small bag. To start, the weather in Ighiu would be around 50 degrees when I arrived and 90 degrees when I left, making the packing situation even more of a fight. But in retrospect, I am so glad I did not bring a larger suitcase after needing to carry it up 10 flights of stairs to get to my dorm room… twice. I also had to roll over cobblestone walks and gravel terrain. To pack everything into a carry-on suitcase was insanely difficult and I've included a list of the essentials I took with me below, which ended up being the perfect packing list.
MY PACKING LIST
10 plain shirts/ tank tops

2 t-shirts (work as pajamas)

3 pairs of pants

5 pairs of shorts (including athletic and jean shorts)

1 sweatshirt

1 rain jacket

1 thin sweater, sweatshirt, flannel, or long sleeve

d

shirt

2-3 fancy outfits for days off (I brought two dresses and one skirt)

Undergarments galore—aka I brought two weeks of underwear

Medicine: (bring everything you think you'd need,

 

you don't know the accessibility)

Advil

Tylenol

Tums

Anti-nausea if you get motion sickness (I brought 3 tubes)

Mini first aid kit

Cold medicine

Anti-diarrhea/gas

Any prescription medicine

Packing cubes- these allow for keeping yourself organized even if you aren't moving

Bathroom stuff- toothbrush, toothpaste, shampoo, conditioner, razor, body wash, travel towel, etc.

A small bag for day trips and a purse

iPad, camera, chargers, and cords, and a simple plug converter

Journal
ARRIVAL:
I spent weeks preparing for June 15th to come; the day I would walk onto the massive two-story plane alone for the first time. Looking back on that day, it was so surreal and it honestly did not hit me until I sat down on the plane. I barely had time to be nervous, but I did feel prepared and excited for the six weeks to come. The man sitting next to me on the plane, John, asked me why I was traveling to Austria. I explained how this would just be a layover and I was actually traveling to Romania to volunteer. He smiled politely and tried to hide his judgment as he asked why, a similar reaction I got from most people. No one understood why I would choose Romania over Spain or another western European country. Romania is not a popular tourist destination, or even a place people consider traveling to. This was why I wanted to go.
I flew into Cluj Napoca, Romania, the second largest city behind Bucharest to spend a few days adjusting and spending time with the local AIESEC chapter before leaving for the camp. This city is a strong representation of the history of Romania and the rebuilding of culture since the overthrow of communism. Driving in from the airport, my first impression of Romania came from the first ten city blocks; we passed high-rise concrete buildings all the same height and appearance. These looming buildings represented the despair and lack of individuality from the communist time. To counteract this, current residents of these buildings attempt to paint the outside or put flowers on window sills to inspire beauty. However, in the city center, there are beautiful Hungarian buildings left behind from the Hungarian conquest of Transylvania—with bright colors, cobblestone sidewalks, and intermixed modern architecture. The contrast between the two types of architecture in this city tells the story of Romanian history, allowing internationals to get a glimpse of their cultural story.
These first days in Romania are unforgettable. The local AIESECers were in the middle of their final exams but made sure that all the international volunteers were never bored. Cluj Napoca was the European Youth Capital for 2015, allowing for us to join in free concerts in the city square and city-wide parties in the central park. We were able to hike to the top of a hill overlooking the city, try traditional Romanian food, visit local tourist destinations and join in local AIESEC meetings. Needless to say, I was weary and nervous to pack up after those first few days, leave the friends I had made, and to go to a tiny village in the outskirts of Transylvania.
I joined two soon-to-be coworkers, Rammie and Vivi, 18-year-olds from Hong Kong. We took a two hour bus to Ighiu on the morning of the 19th of June. We arrived at the camp to find the other internationals sitting around a table complaining about the internet being down. Our boss, Daly, came to introduce herself to me and the other internationals. She brought a whiteboard and a few files to talk about the first camp starting the next day. None of us were prepared when she said, "Okay, so let's plan the schedule for the week!"
SIX WEEKS FOR THE WORLD
My patience, ability to work with others and sanity were all pushed to a limit.  But in six weeks, I became an emotionally stronger person, more confident and a better leader. I was able to impact over 500 campers' lives, meet internationals from over twenty countries, and make lifelong memories.
After Daly sat us down to plan the week, the other ten internationals, myself and nine Romanians sat with our mouths glued to the floor. Only one volunteer had ever worked at a camp and the rest of us had only minimal experience with children. This first week was not the typical magical international experience. Half of the twenty volunteers had quit by the end of the first week. Our living arrangements were not up to the quality promised, our job descriptions were much more intense than what we understood and our resources were not up to par with a camp should have. But all of that didn't matter to me once I saw the first Romanian children walk through the gates.
A typical day at camp would start at 8:00 AM and end at 10:30 PM including five hours of organized activities, three hours of English lessons, meals and one camp-wide activity at night.  As camp leaders we were given the autonomy to run our own activities. I was able to organize international trivia, relay races, dances, music videos as well as language growth activities.
The first week, a group of girls ran into the camp smiling with eyes wide open staring at how beautiful this camp was. I walked up to them to introduce myself because I had a similar reaction the day before. After this first introduction, these girls followed me around everywhere. They ate every meal with me, begged to be in my activities, and shouted my name as I walked by. These girls are the reason I was able to get through the first week of the camp. Their positivity, ability to love so easily, and their passion to learn English motivated me to do my best and do it better each day. Even though the English teachers were left alone to struggle planning a week's worth of activities, teach without resources and live in a home without a kitchen or washing machine, I was able to see past that to realize even if I could impact one child's life a week, what I was doing was worth it.
After this first week, things got a lot better after Cisco, a man from Florida, came to volunteer. He volunteered at the camp for the three previous years and was able to help us with organizational problems and helped fix larger issues we had the prior week. He taught us to use a song to call all the children to the terrace before activities, to say "La Masă" when announcing meal time and to be flexible.
The next week we had high school age campers. This was a whole new experience in itself. We had to stay later to ensure they would stay in their own rooms, watch the gate so no one would go outside to smoke and literally rip apart heads as they would kiss during activities. Even with all of this, this week was easily my favorite week of camp. Since they were older, it was possible to have deeper conversations about life and bond on a different level. Instead of planning games and activities, we were able to have more pool time and chill time to just practice English.
There was a group of campers from an art school that I connected with from day one. Compared to American teenagers of this age, these campers were informed, passionate, empathetic and curious. (They also never brought their phones to activities.) The last night of every camp we would have carnival night where we would give every camper 25 beans and they would be able to play games, get their fortune told and win back beans. For this camp, we had a raffle where campers would pool together their beans to try to buy one of the four prizes. The first prize was bought by a local art school and the prize was to pie a camp leader in the face. They chose me. The camper who was given the honor to pie me in the face got everyone to come closer on the terrace to watch. He pulled his arm back dramatically, I closed my eyes. I heard an uproar from everyone and opened my eyes to see he had pied himself in the face. He put his arm in the air and yelled, "Guys, you have to respect women!" and walked away arms still in the air.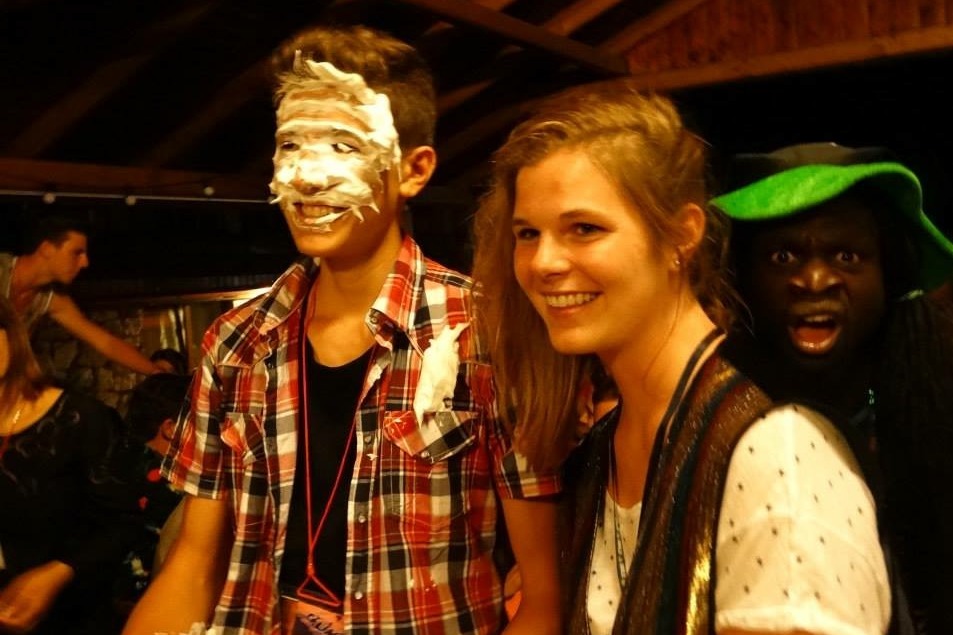 I could go on and on reminiscing about snapshots from my experience, but here is the last one I will tell. The last week at the camp, a group of cancer fighters joined us. There was a little girl, Florina, who was only three-years-old fighting Leukemia. She did not know any English, while I only knew about 10 words of Romanian. She is a perfect embodiment of the phrase "fight like a girl." She gave the strongest hugs, the biggest smiles and could dance like nobody was watching. Even though we couldn't communicate, this girl made the biggest impact on me from my trip. Words can't describe her ability to brighten my day as she reached out to me to hold her. Her mom said she has a very minimal chance of surviving, but she is able to take every day as it comes and make the best of it. If we could all have a fraction of the positivity and passion that Florina has, the world would be a better place.
Everyone talks about going abroad as a life-changing experience, and of course, I agree. But going abroad can be more than that; you can be that life-changer. It only took six weeks of my life to make an impact on over 500 children and over 40 internationals. If you have the opportunity, just go. Take the chance on six weeks for the world.