The day after we got back from Oslo, Gretta and I cooked a feast: barbecue chicken, roast potatoes, salad and cooked carrots (The dinner we wanted to have when we got done hiking but couldn't make because all the grocery stores were closed). If you saw Gretta's kitchen that consists of two hot plates and a sink, you'd be very impressed. The dinner was excellent and the night was fun, but I was more excited about the next day: My mom was coming!!
The next morning, I headed to the airport at about 1:00 p.m., which was cutting it close since my mom's flight was scheduled to arrive at 1:20, but it turned out to be fine since it took forever for the bags to get off the plane. I waited by the customs exit and when she finally came out, it was incredible!!! We ran to each other and hugged. I don't think I had been so happy to see someone ever! We got in a cab to go the hotel and caught up on all the things that had happened in the previous two months. The hotel was wonderful and the beds were so comfortable – a double bed, what a dream – so we napped for a bit before heading to dinner. We met Gretta at a Thai place that I had never been to before, and the food was excellent! We had some wine and then headed home to go to bed, but of course mama wasn't tired after her nap. We stayed up and watched the Voice (the only show on the TV in English) and eventually fell asleep.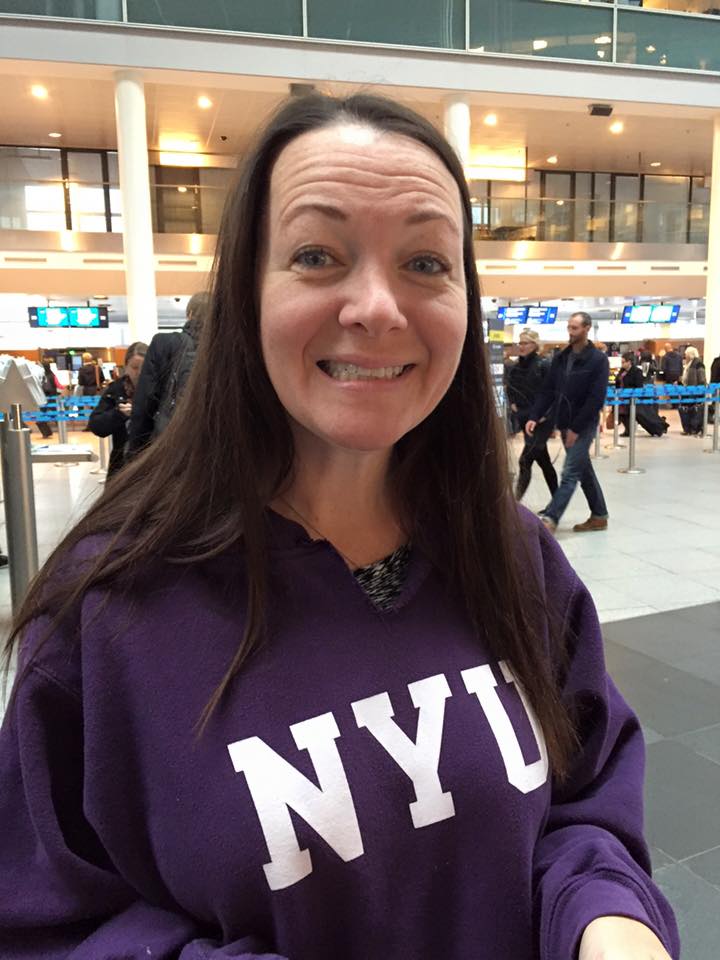 In the morning, we headed over to the Christianshavn neighborhood to get brunch at a place called Luna Café. I had been there before, so I knew it would be good. We both got breakfast burritos without the tortilla (gluten) and hash browns. Mom was skeptical of the hash browns so she only had a bite, and after we were done eating we explored the area a little bit. We went inside Christiana, which is the commune where selling drugs is legal and police don't enter. You aren't allowed to take pictures because the drug dealers don't want any proof of their dealing, but we managed to sneak some shots of the graffiti in one of the buildings. Afterwards, we headed to the shopping and harbor area, Kongens Nytorv.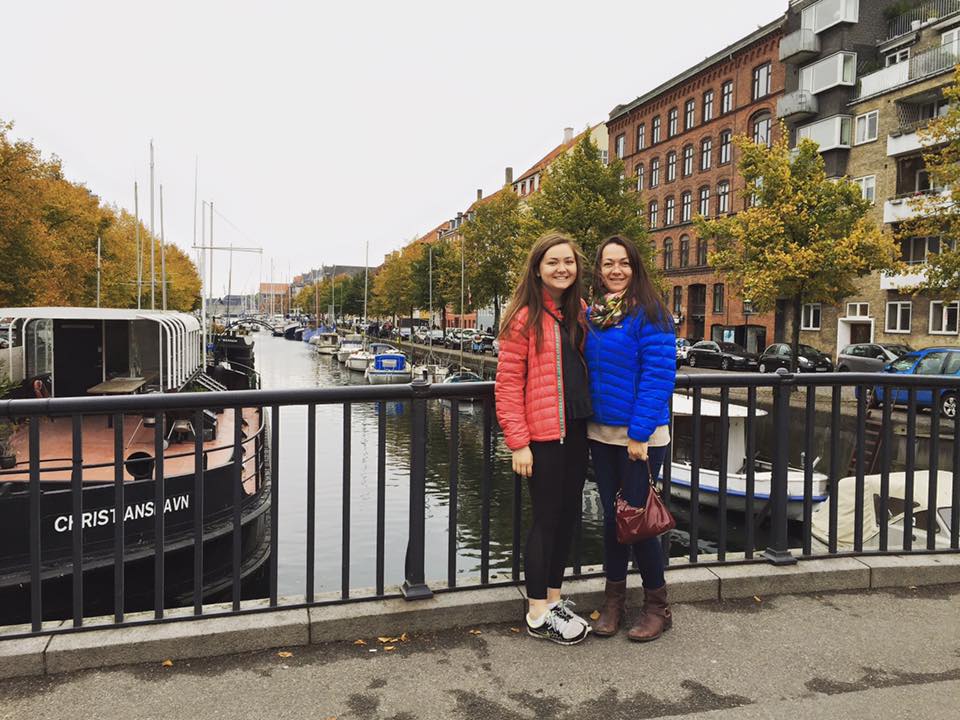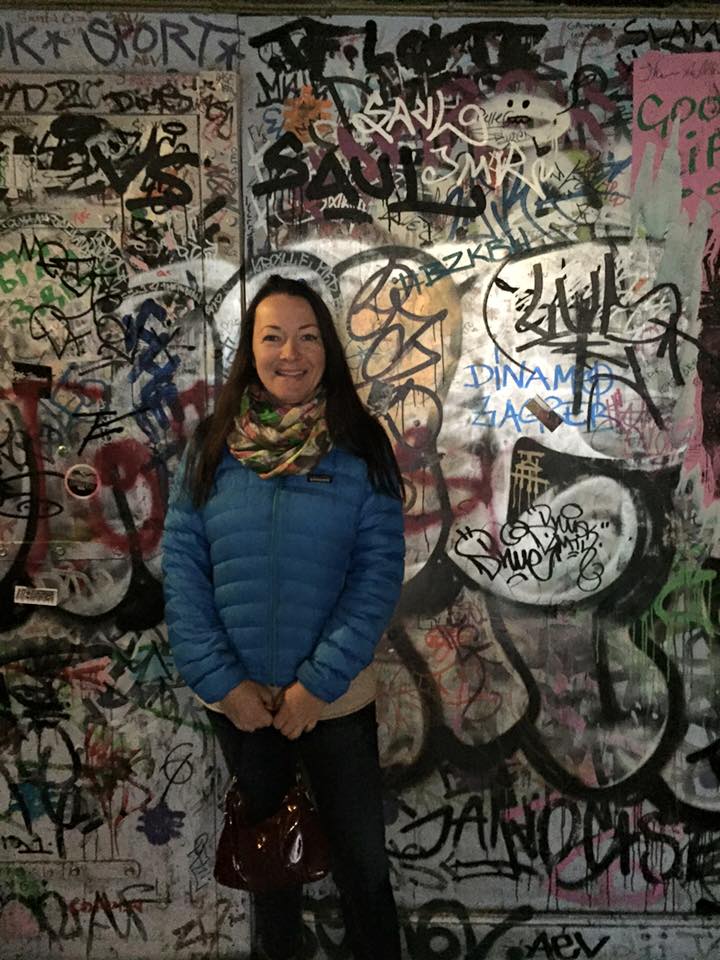 Then, disaster struck. Mom started to feel sick, and it was the kind of sick she feels when she eats gluten. Her allergy is much more severe than mine, so I knew it couldn't be good. We stopped shopping and made our way back to the hotel so she could be sick there rather than in the bathroom of Joe and the Juice. I was freaking out. If she was too sick to travel, we wouldn't be able to go to Ireland that night! What if we didn't get to go to Ireland at all?? It was stressful. We booked another night at the hotel in Copenhagen and had them cancel one of our nights at the hotel in Dublin. At our new room in Copenhagen hotel, we watched movies and ordered room service for the evening.
In the morning, mom was feeling much better. We were able to change our flight to Dublin to that day at 10:00 p.m., so thankfully we were still going to make it there! We decided to make the best of another day in Copenhagen, so we took the train to Sweden!
The closest Swedish city to Copenhagen is Malmö, which was about a 20-minute train ride from the airport. We were excited to be in Sweden and channel our inner girl-with-the-dragon-tattoo by having a sandwich and coffee. However, Malmö did not live up to our hype. It was dead! When we got off the train, we walked out of the station and there were literally zero people walking on the sidewalks. It was just like Oslo, but with no people outside. It was also incredibly cold and windy, so that didn't help our experience with the city. We found a map of the best things to do there and headed toward one of them – the castle (I can't remember the name). The castle had a museum inside (and an aquarium, I found out later, but we didn't go to that). The museum had a huge exhibit on refugees because Malmö is a big refugee city. They took in thousands of Jews after the Holocaust and continue to take in Syrian refugees today.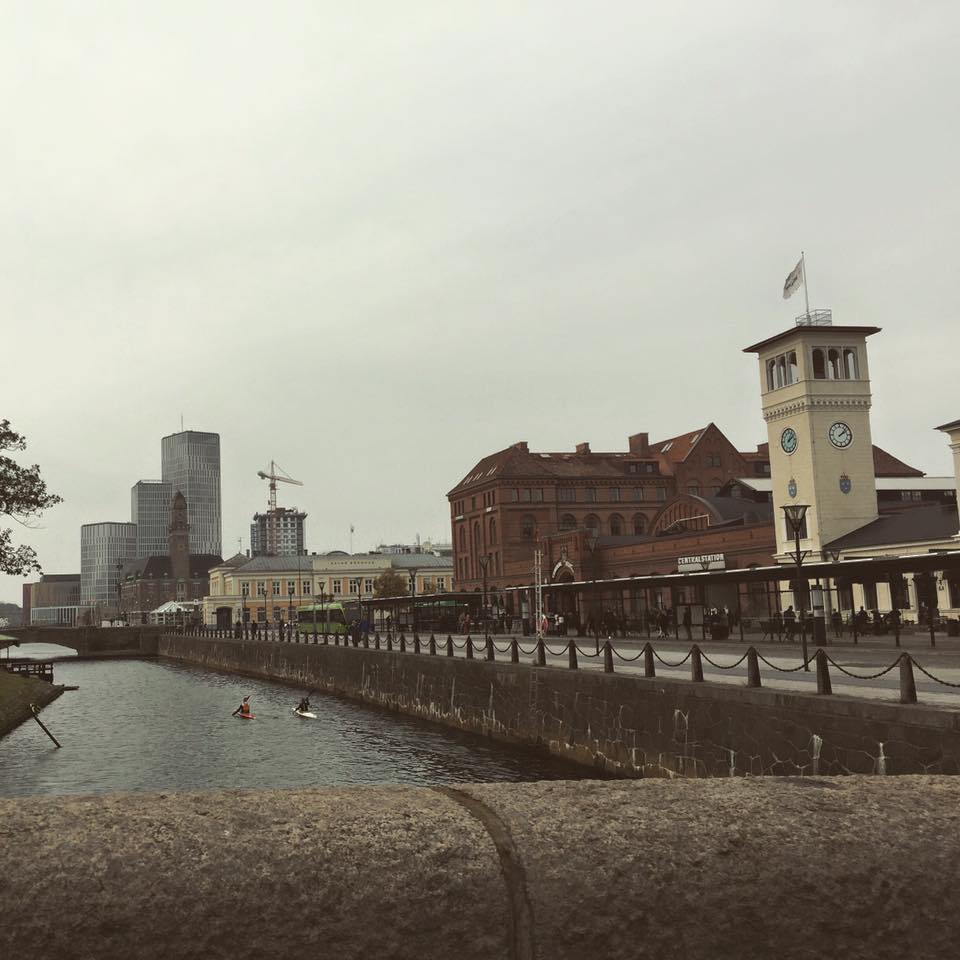 It was really interesting to note that even being one 20-minute train ride away from Denmark, the diversity of the city was completely different. In Copenhagen, it feels as though 95 percent of the people are white, tall and blonde, but in Sweden there was more variety in the ethnicities of people, which was a nice change.
We eventually found the more populated area of the city, with shops and restaurants and bars, and people actually walking around, but it wasn't crowded, just populated. We got lunch at a tapas place, with mom being extremely weary of gluten in the food (there wasn't), and eventually took the train back to Copenhagen. We went to my apartment, and I showed mom the mall that's across the street from me. Afterwards, we got dinner at the great tapas place next door to my building. (Bacon wrapped dates are a dream, by the way). Then we finally headed to the airport for our flight to Dublin.
When we got to the airport, there still wasn't even a gate posted for our flight, so we just wandered through the shops, trying on headphones and reading magazines. When they finally gave us a gate number, we went to the gate but it didn't open for another thirty minutes (I feel like European airports aren't big on taking off on time) so we just sat on the floor and waited. It was funny, you could tell that most of the people on the flight were Irish, as they were loud and laughing, versus a Danish flight that's quiet and everyone is serious.
The flight was longer than we expected, about two hours. But as soon as we landed, we knew Ireland was a great idea. Everyone was so friendly, even though it was 1:00 a.m.! The man stamping our passports told us we would love Ireland and that we should go to Galway if we got the chance. We told him we would try! Our trip had been cut a day short by the illness, so we didn't really see Galway happening, since it is a 3-hour bus ride away from Dublin.
I was unable to figure out the tram for us, much to our disappointment, so we took a cab instead. Even our cab driver was incredibly friendly, telling us all about things to do in the city and cracking jokes with us the whole way. However, the fun was not to last. We arrived at the hotel, expecting to just check in and go to bed, but that was not in the cards for us. The people at the front desk could not find our reservation in their books. Basically when the hotel in Copenhagen called to tell them to cancel the one night of our reservation, they went right ahead and cancelled the whole thing – all three nights. To make matters worse, Kevy mailed some medicine that mom forgot to the hotel, and the guys at the desk could not seem to find that either. After a stressful half an hour, they finally found us a room and the medicine. The man who signed for it had placed it somewhere in the back loading dock, aka not where it belonged. We headed up to the room, ready to pass out, when we opened the door and it reeked of smoke.
"Nope," mom said, and we closed the door and hiked back downstairs.
We told them we would not stay in the smoked-in room so they had to find us another room, which they gladly did. They then offered us a free meal and free bag service. We happily obliged and got wine and great sandwiches (on gluten free bread) in the lounge of the hotel. When we finally headed up to bed at about 2:00 a.m. We were dog-tired.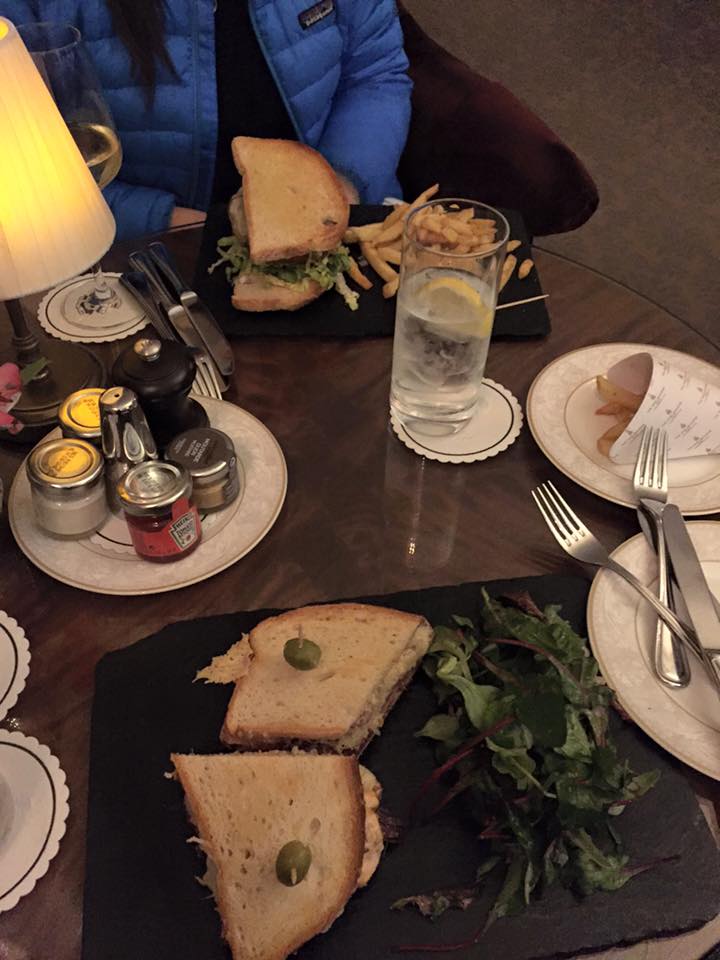 We slept the next day until about 11:00 a.m. (oops) and got lunch at a place that served gluten-free fish and chips! We figured we had to get fish and chips while in Ireland; it could not be passed up. On the 20-minute walk to the restaurant from our hotel, I ran into a guy I went to high school with!! I hadn't seen him since the summer before college, and he just happened to be walking down the street in Dublin! It was crazy! He is studying abroad in Madrid and was in Dublin for the weekend. What a small world it is. Mom was shocked; she said that she should be seeing people she knows, not me!
We got the fish and chips and onion rings, and they were amazing. It was such a sunny, warm day, no one felt sick, we were together and we were eating fish and chips. It could not be a better afternoon. Afterwards, we wandered around the streets and explored more of Dublin and headed over to Trinity College to check that out. The campus was awesome! I would have loved to study there. Additionally, everyone was so friendly and welcoming and smiley, much different than the closed off, coldness of the Danes. We did a little shopping and then went to a pub, the Old Stand, where we got Irish coffees. It was fun to people watch there since everyone was so diverse and different. People were speaking so many different languages around us. Eventually, we headed back to the hotel to get ready for our dinner reservation at a place called Hugo's.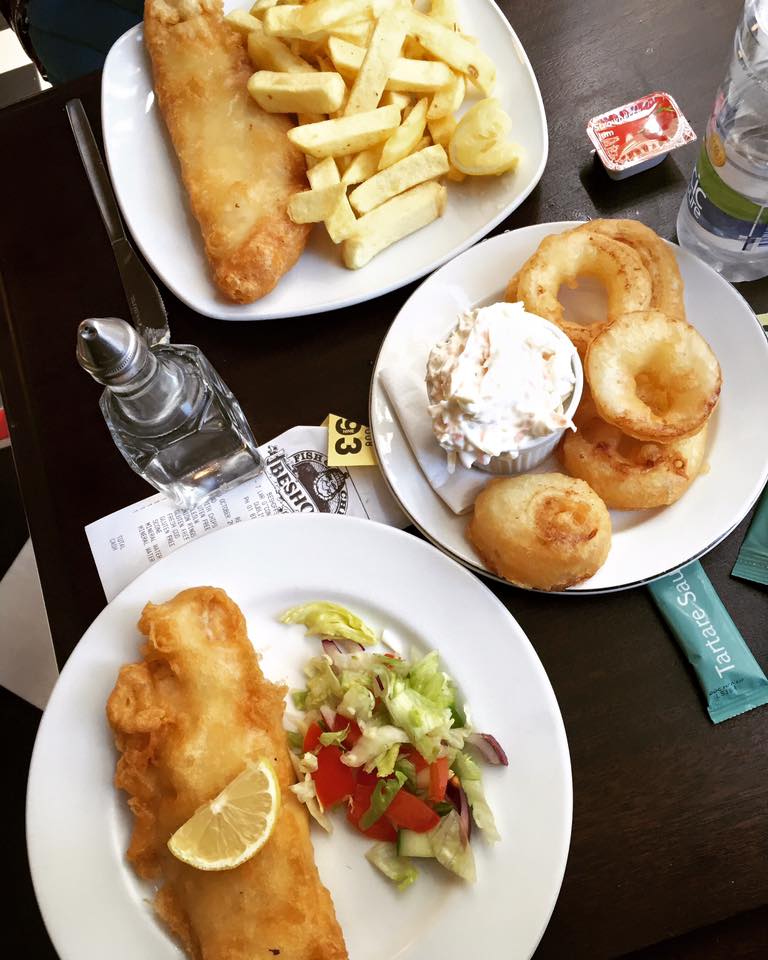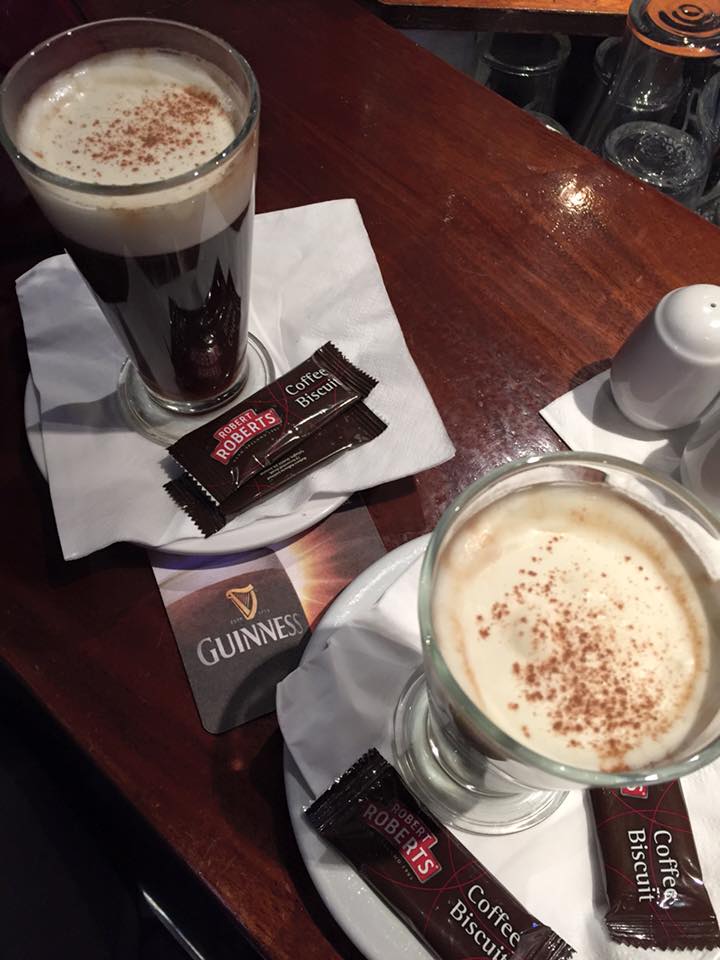 Before Hugo's, we went to a little wine bar called Otto, which had great wine and more friendly people. Our waitress told us we should move to Dublin, and we said ok. Next we headed to Hugo's, which was incredible. Our waiter was so friendly and helpful and made sure that everything we got was completely gluten free. We had so much food, I don't even know how I was ever able to be hungry again, but alas, I am hungry right now. The food was awesome as was the dessert, a gluten-free brownie with ice cream.
Our flight left next day at 12:45 p.m., so when we woke up, got brunch at the hotel and journeyed to the airport.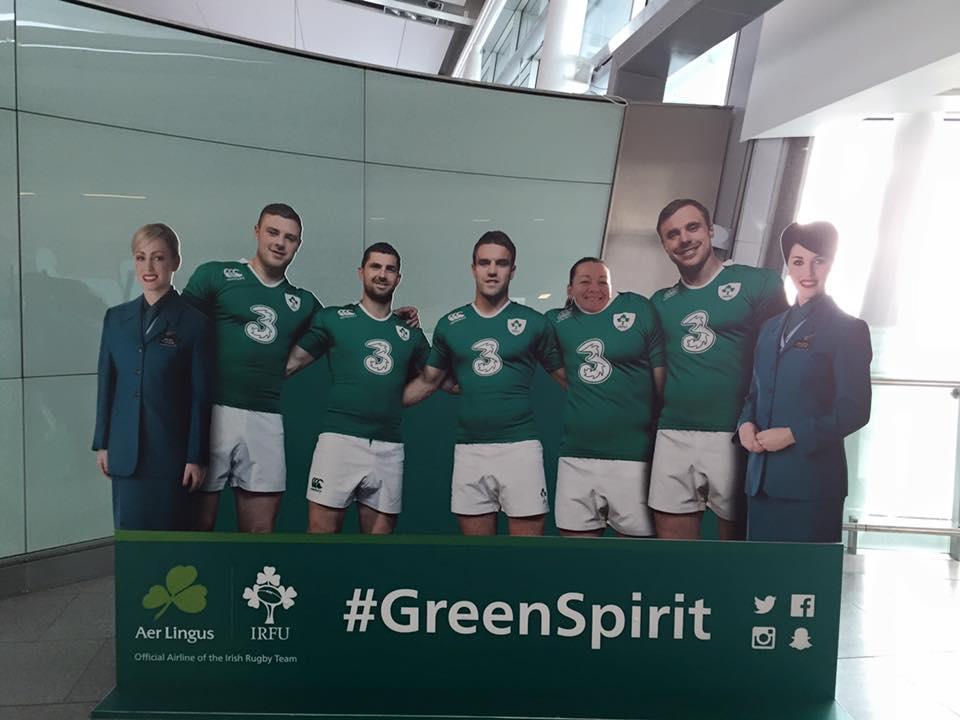 Our cab driver was great, telling us about the famous people he drives around (he had driven Colin Firth earlier that day, and would be driving Jamie Foxx later) and about how he loves Ireland. He told me not to fall in love with a Dane, but come back to Ireland and fall in love with an Irish boy. He also showed us the oldest pub in Ireland and the house that Sir Arthur Conan Doyle grew up in, where his family still lives today. When we go to the airport, we were sad to go. Ireland had left a lasting impression on us: somewhere warm and welcoming that hadn't gotten snow in 5 years!! I honestly loved it so much, I could see myself moving there after college, even if for just a year.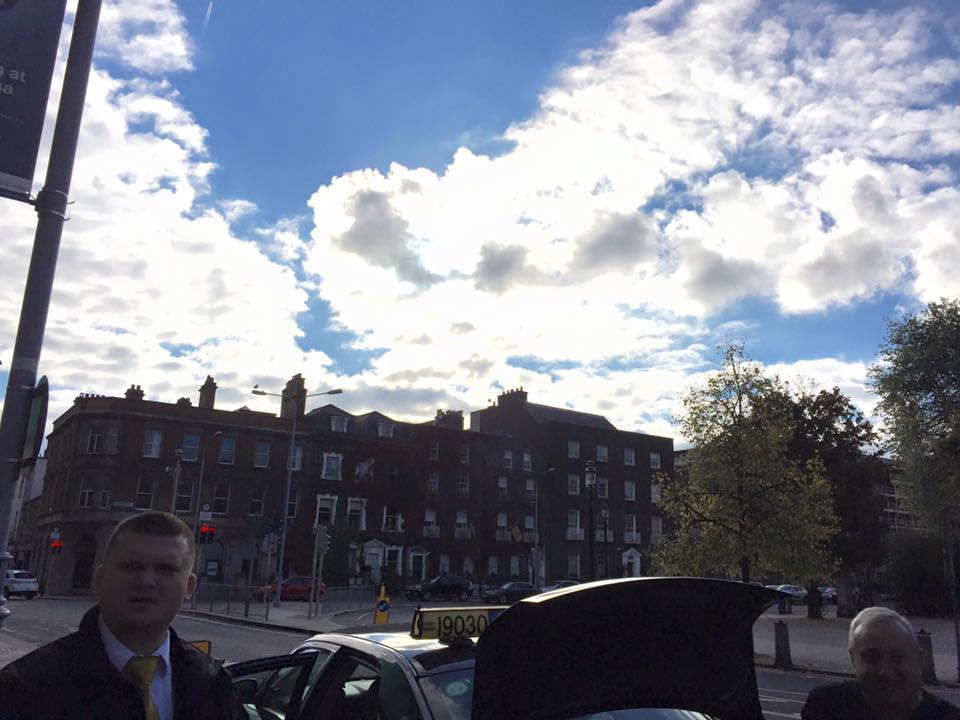 We then had a couple days in Copenhagen, where we explored, ate and shopped, then retreated to our hotel room to order room service and watch movies. On Monday, I sent mom on her way on the train back to the airport, and it was sad. I had to go to class afterwards, which made it even worse, considering I hadn't had class for the week before since it was my fall break.
I already know that I will appreciate home so much more when I am back because now I truly know what it's like to not be able to go home from school any weekend I want, but be far away from my family. It's hard, but I know I'm going to grow from the experience! Everyone always says that you change so much when you go abroad even if it doesn't feel noticeable at the time that it's happening, and I definitely agree with this. I am sure it will be more evident when I return home, but I already feel like my attitude about some things has changed tremendously since being abroad, and my mind has been more opened to other views and opinions. When going abroad, I think everyone is their best self, kindest and most loving in order to make friends and be friendly and polite, and I think that's a great thing for someone to have to do. I know that I too did this, and I feel like it has affected me in that maybe I am a little kinder or more open now that I have been thrown into a new environment and forced to make new friends. It's a really interesting experience and I look forward to noticing how else I change once I return home.