[dropcap size=small]M[/dropcap]ost Americans old enough to follow the news during the early 1990s remember the period marked by a bloody civil war in Bosnia and Herzegovina. Since then, the country has fallen behind the shadows of booming, touristy Croatia. Luckily for me, this means—at least for the time being—Bosnia and Herzegovina will be my secret European gem.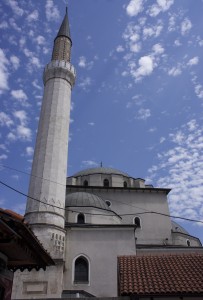 I stumbled upon the country accidentally while researching asylum seekers in Europe. The complexity of the issues that fueled the Bosnian war, such as different ethnic, religious and language groups, intrigued me enough to journey to this Balkan country from Copenhagen, Denmark, where I'm currently doing my exchange.  I planned to travel with my boyfriend from Belgrade, Serbia (the former capital of Yugoslavia) to Bosnia and Herzegovina, stopping in Srebrenica, Sarajevo, and Mostar along the way, and ending on the beaches in Herceg Novi, Montenegro and Dubrovnik and Split, Croatia.
The trip from Belgrade to Srebrenica appeared rather complicated, but despite minor hurdles, it worked out smoothly. We took a bus at the crack of dawn into the middle of nowhere Serbia (Ljubovija) and scrambled to find another bus. The only way we could communicate was by pointing and listing city names in horrible accents while the two old ladies at the desk wrote down times and prices once they finally understood us.
We learned quickly the only transportation option was a taxi, and while we tried to explain our destination, the drivers used hand gestures to warn each other we were clueless tourists who should overpay for their services. Nonetheless, we took a taxi and gleefully crossed a small one-lane bridge and reached our destination: the Srebrenica-Potocari memorial and cemetery for the victims of the 1995 genocide. Our mood quickly turned once we saw gravestone after gravestone, many for children and many recently built, as bodies are still being added. We arrived in Srebrenica's city center by taxi and traveled by bus through the lush Bosnian mountains to Sarajevo.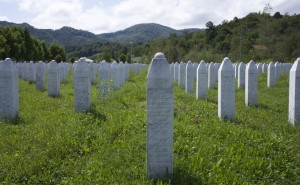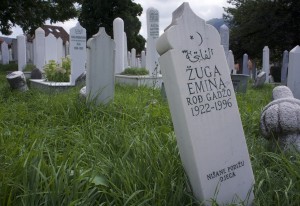 Sarajevo was like a miniature Istanbul with stronger European vibes. It was late, so we took yet another taxi, this time with a witty, comical driver that spoke to us in a blend of Norwegian and English while giving us a mini city tour. Little did we know, he charged us double the price, so note: watch out for taxi drivers in Eastern Europe, regardless of their superb linguistic abilities.
The rest of our time in the city involved exploring the old Turkish district of Bascarsija (where WWI began) and some of the newer districts. Meanwhile, we ate as much of the cuisine as possible. From grilled lamb sausages with bread (cevapi) to bell peppers stuffed with minced meat (filovane paprika) or spiraled, flaky meat, cheese and vegetable pies (burek), it was hard to go wrong. The main market was also filled with fresh fruits and vegetables, and it wasn't hard to find great deals (a kilogram of fresh figs was only 2 euro). Cafes also prided themselves on their delicious coffee and wide array of sweets.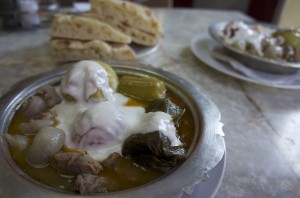 One of our days began with a free walking tour led by a fast-talking Sarajevo native, Neno, who discussed the civil war from first hand experience and acted as an encyclopedia for Bosnian history and different traditional dishes and restaurants.
On one of our last days, we managed to walk up a side of the city, as Sarajevo's steep hills lead to a river that divides the city. The view was unforgettable, and it was a great reminder that the beautiful city was spotted with fresh fruit trees, colorful houses, and warm people, not just touristy neighborhoods.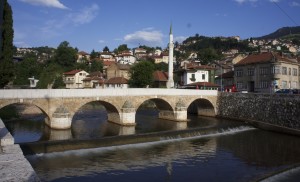 The train from Sarajevo to Mostar is what some believe to be the most beautiful train ride in Europe (and of the handful of European trains I've used, it was definitely up there). The train was donated by the Swedish government, and all of its signs are written in Swedish rather than translated into Serbo-Croatian. Our final stop, Mostar, included the gorgeous old town and iconic Old Bridge, but, unfortunately, was also rather touristy.
By the time we boarded the bus to Montenegro, I already knew I wanted to go back. This country that had gone from civil war to being a World Cup contender in the 2014 games has so much to offer from its rich and complicated history, delicious cuisine, lovely people, and serene nature scenes. As time goes on and as its civil war fades from the country's recent history, hopefully others will discover this Balkan jewel.
Samantha Brown is a second-year master's student currently living in Copenhagen, conducting research and talking courses, primarily in sociology and political science. Her main interests currently revolve around immigration into Scandinavia, but more specifically asylum seekers and asylum policy in Denmark. She also loves languages; she's fluent in Danish, competent in Swedish and Norwegian, has previous experience with Spanish, French and Sierra Leonean Krio and recently began taking Arabic courses.